GRENADA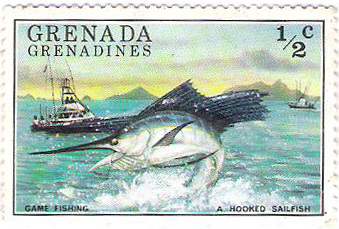 Grenada is a small mountainous island (25miles x 12miles) at the southern end of the Windward Island chain.
It is blessed with white sandy beaches, lush green rain forests and great Sportfishing!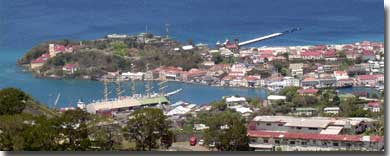 St. Georges Harbour
Grenada is a safe island and is well known for its friendly people.
There are plenty of non-fishing activities and a wide choice of resorts, hotels, guest houses and villas in which to stay. True Blue Sportfishing's partner hotel is the beautiful True Blue Bay Resort (www.truebluebay.com) - located on True Blue Bay. We can assist you with booking your fishing holiday to Grenada.
Capt. Gary lives in True Blue on the south coast of Grenada but he keeps the boat at Port Louis Marina in St George's. Port Louis is a major new marina development located in the lagoon. This is close to the main fishing areas on the west coast and is a safe and secure base for the boat.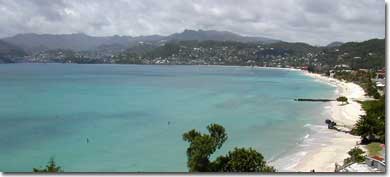 Grand Anse Beach
New! Do you have any family or friends who are longing to visit the Caribbean? Perhaps you would like to take a trip yourself. Whichever it is, the year 2012 brings with it a host of options in air travel for persons to visit Grenada, Carriacou and Petite Martinique.

Most recently launched is the twice weekly nonstop service from Canada to Grenada via Caribbean Airlines. The flight begins in Trinidad, connecting to Grenada and continuing on to Toronto every Thursday and Sunday. The airfare includes 2 checked bags at 50lbs each, inflight entertainment and complimentary meals and snacks.

If you're in New York, Caribbean Airlines also provides a twice weekly nonstop service from New York to Grenada on Wednesdays and Saturdays via JFK's International Airport. If you're coming from Miami or Orlando, there is no need to worry. Caribbean Airlines provides flights from the Miami International Airport and the Orlando International Airport.

If you've already planned a trip to another Caribbean island, then why not enhance your vacation by adding Grenada to your itinerary. Caribbean Airlines makes connections to Grenada from many other neighbouring islands. What better way to enjoy the New Year than to hop onboard a flight to the Caribbean and indulge in the warmth and authenticity of Grenada, Carriacou and Petite Martinique.

Feel free to visit the website at www.caribbean-airlines.com or the closest ticket office. You can also contact your travel agent today.
Captain Gary Clifford
True Blue Sportfishing
@ Port Louis Marina
St. Georges
Grenada
West Indies

Phone: (473) 407-4688
E-mail: yesayegrenada@gmail.com